Ceremonies exist because of tradition, so it is obvious to assume that without tradition, ceremonies would not exist. We must be open-minded to their tradition and ceremonies to keep so many critical indigenous cultures alive. Without knowledge, ignorance threatens to create fear and upheaval. We must learn about others to understand them. With this in mind, consider now the ceremonial importance of cacao. 
That's right; chocolate is incredibly valued by various cultures, especially those in Central and South America.  In many Mayan communities like the T'zutujil, chocolate ceremonies are celebrations shared with kin and strangers alike. Discover how, why, and where the Heart-Healing Cacao Ceremony takes place to empathize better and perhaps even aid the cultures that originated them!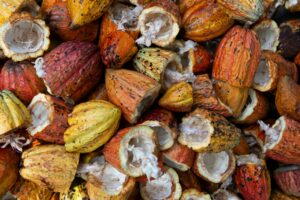 Cacao: The Chocolate Fruit
Before we can discuss why cacao is so sacred and essential, we must discover what it is exactly. Cacao is a tropical fruit that is native to Central and South America. It can be cultivated anywhere that offers tropical climates. To turn cacao into cocoa, you must grind and ferment the seeds into a paste. Before cacao was used to create the sweet candy we know today, it was often drunk as a bitter, frothy beverage called xocōlātl. This beverage, like coffee, was consumed by anyone who wished to partake. Cacao itself is considered a gift from the Gods in Mayan cultures. Nowadays, the most bitter cacao products we can find on our supermarket shelves are dark chocolate!
When talking about Ceremonial Cacao used by the esteemed Cacao Labs, we must go over some key differences. First, ceremonial cacao is used expressly for ceremonial purposes. It does not go through the usual process that ordinary cacao does to create cocoa. It is minimally processed to keep all the great antioxidants and other superfood health benefits cacao offers. Finally, ceremonial cacao is sustainably harvested, and all those who participate in this fruit collection are compensated for their hard work.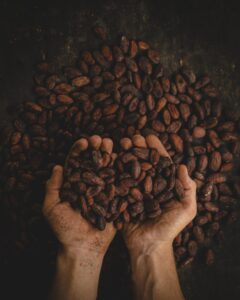 The Cacao Ceremony
A Cacao Ceremony is a sacred traditional ritual. In it, you drink cacao in its purest form and meditate. Cacao is the central point of this ceremony as it is said to carry a spirit that can help guide your meditative state and open your heart to those around you. Cacao Ceremonies are usually gatherings, though they can be done personally, and are led by a Mayan Wisdom Keeper (or those trained by said Wisdom Keepers). You will sit together in a quiet space and drink cacao, then begin the meditative process that will allow you to open your heart and mind to the possibilities cacao has to offer us. 
Beyond meditation, Cacao Ceremonies have a variety of other benefits. Cacao is the medicine of the heart. Not only because it opens us up to the natural happiness of the universe, but also because it is chock full of theobromine and magnesium. These two components aid in pumping blood faster, which increases blood flow and heart rate. Theobromine can also be found in coffee and has a mood-lifting effect. Use this jovial state of mind to invite your inner child to the ceremony, and to heal whatever may have left scars on your heart.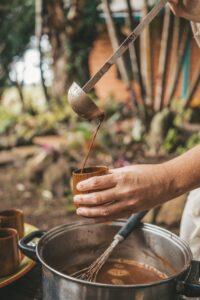 Cacao for You
Ceremonial Cacao can be a wonderful heart-opening time for anyone interested in exploring their deeper selves. If you are interested in a more casual cacao experience, though, then try out this Raw Cacao and Tonic Herbs Pack. 
If you are interested in experiencing a Cacao Ceremony, always be on the look out for events at The Alchemist's Kitchen! For February, we will be discussing The Myth of Saint Valentine! Be sure to grab a ticket before they sell out.