Scientifically speaking, psilocybin mushrooms are a polyphyletic or informal group of fungi that contain a psychoactive compound called psilocybin. When consumed, this mind-altering substance eventually turns into psilocin. Over 180 species of psilocybin and psilocin-containing fungi species have been discovered and is considered the most commonly consumed psychedelic in the United States. With its current widespread use, understanding the history and evolution of psilocybin mushrooms will not only further cultivate awareness for these therapeutic forms of medicine, but equally for all that nature provides. 
Ancient Mushroom Art and Folklore
The first known evidence of mushroom use dates back to 10,000 BCE where Australian cave paintings depicting shamanistic mushroom-related artwork suggest psychedelic mushrooms may have been a part of Aboriginal Australian culture. More cave art emerged when a mural containing psilocybin mushroom-related figures was discovered in Spain around 4,000 BCE. Adding to these ancient discoveries, more fungi-inspired paintings and sculptures were revealed, dating back to 1,500 BCE that displayed hallucinogenic mushrooms played a vital role in the Aztec and Mayan culture. 
Some Christmas traditions that have been around for hundreds and even thousands of years can be traced back to pre-Christian times in Paganism and Nordic mythology. Santa Claus himself may even have psychedelic origins, inspired by Siberian shamans who dressed to resemble that of the Amanita Muscaria, a red and white spotted mushroom. This mushroom has been consumed by these indigenous shamans in Siberia since the 1600s.. Its purpose was to inspire visions of the mushroom spirits known as "wapaq" and for divination, healing, physical endurance, creativity, interpreting visions, and communicating with spirits.
According to some sources, female shamans originally wore red and white costumes with black boots and felt red hats. To this day, Siberian mushroom gatherers wear a ceremonial dress of red and white to symbolize the color of the mushrooms they forage. Although this particular mushroom does not contain psilocybin or psilocin, but rather another hallucinogenic compound, it remains an important piece in the history of psychedelic mushrooms.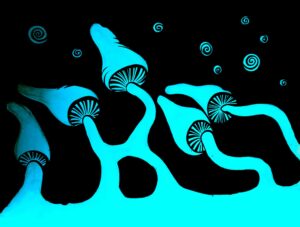 Sacred Beginnings
Therapeutic and spiritual use of psychedelic mushrooms amongst tribal societies has been practiced and documented for hundreds and potentially thousands of years. There have been several confirmed uses amongst indigenous peoples in Central America as well as in Ancient Greece. "The Eleusinian Mysteries" were secret psychedelic rebirth rites that were intended to gain spiritual insights.
These transformative ceremonies took place around 1500 BCE and the Greek Dark Ages. They were not only tolerated by ancient civilizations but highly held in reverence. In these rituals,"kykeon", a psychedelic brew was said to be made from LSD and psychedelic mushrooms. Additionally, the Egyptians also expressed their use of entheogenic fungi through spirituality and religion. The god Osiris is said to have placed psychedelic fungi on Earth, and therefore their consumption should be limited to the priesthood and upper classes. Some researchers have even suggested that ancient Egyptians harvested these mushrooms from barley grain, showing the cultural significance that psychedelic fungi had on the Egyptians.

Psychedelics and Counterculture 
Later in 1894, Marina Sabina was born into the Mazatec in southern Mexico. María Sabina was a well-respected shaman holding sacred ceremonies called "veladas", in which psilocybin mushrooms were the foundation. María Sabina's veladas popularized the use of psilocybin amongst the west. In the 1950s, 30 years after Sabina had been holding indigenous ceremonies, she met Gordon Wasson, a banker and ethnomycologist from New York.
After several ceremonies, Wasson publishes an article, "Seeking the Magic Mushroom", which was the first introduction of the term "magic mushroom" to the west, in Life Magazine. From there, Albert Hoffman and Roger Heim decided to join Wasson in his recent discovery. Heim helped Wasson in identifying various specimens of mushrooms while Hoffman isolated and identified psilocybin and psilocin as the active ingredients found in psychedelic mushrooms. Hoffman then synthesized each compound and sold them to a pharmaceutical company. 
Later, Timothy Leary, a renowned psychologist and Harvard Professor gained interest in this potent fungi and began traveling to Mexico to participate in the ceremonies. Ram Dass, a renowned speaker and psychedelic advocate accompanied Leary. After both experiencing transformative ceremonies, they founded the Harvard Psilocybin Project, a psilocybin study conducted on Harvard graduate students. Although psilocybin was legal at the time, due to unrelated concerns the project ended in 1963. The West was just beginning to uncover the healing potential of psychedelics during the middle of the Vietnam War. The use of psychedelic drugs increased dramatically in the 1960s as part of the counter-cultural movement until they were ultimately banned in the 1970s with Richard Nixon's "war on drugs".  

Scientific Revival and Advocacy
After the federal government declared psilocybin a Schedule I drug, legal research on its therapeutic effects dramatically decreased. For almost thirty years, research on psychedelic fungi was at a standstill. However the ban did contain a slight oversight, the molecule Psilocybin was banned but the spores and mycelium remained legal. It wasn't until 1997, that the first post-war psilocybin study was conducted which sparked interest in clinical research of psilocybin mushrooms yet again. In 2018, the FDA granted Compass Pathways permission to review psilocybin mushrooms as a treatment for depression.
In 2019, John Hopkins introduced its Center for Psychedelic and Consciousness Research. In the same year, the Usona Institute, a nonprofit, was granted breakthrough therapy designation by the FDA for its psilocybin program for major depressive disorder. Following suit, the University of Toronto, the Heffter Institute, and the Beckley Foundation all contribute to the increasing amount of research on the benefits of psilocybin. 
Society is becoming more accepting of these earth medicines and although psilocybin mushrooms are currently illegal, advocacy for its legal use continues. In efforts to expand accessibility, organizations like Decriminalize Nature have led grassroots campaigns all over the U.S. to decriminalize psilocybin and other entheogenic medicines. Cities like Oakland, Santa Cruz, Washington DC, Somerville, and Cambridge have all recently decided to make psilocybin, as well as other natural psychedelics "low priorities". Meanwhile, Oregon legalized supervised psilocybin-assisted therapy programs and implemented a system for production and distribution of psilocybin within the state. These decriminalization and legalization initiatives show promise in the future of psilocybin. As we continue to do the research, each day we are taking a step towards making history in the understanding of psilocybin mushrooms.