Mullein (Verbascum thapsus), is one of our most abundant herbs here in the Northern Hemisphere. A prolific weedy plant, it grows nearly everywhere, from urban wastelands to pristine wilderness to cultivated gardens. Because of this ubiquitousness, it's often one of the first and friendliest herbs to be identified by fledgling botanists and herbalists. Mullein's uses are versatile, likewise, nearly every part of the plant contains powerful medicine. It has an ancient, rich history of human interaction, and is an indispensible herb in any apothecary.

Botany & Etymology
Mullein is a biennial plant, meaning it flowers in its second year and then dies back. Often found in areas of disturbed soil, its leaves and stalk are hairy, which gives the whole plant a soft, fuzzy appearance and texture. The leaves grow in a rosette on the ground the first year, and send up a tall, unmistakable stalk crowned with yellow flowers in the second. Mullein stalks range from 1 – 2 meters in height, and leaves can grow very large, up to 50 cm. The flowers cluster atop the stalk, sporting 5 yellow petals and 5 stamens.4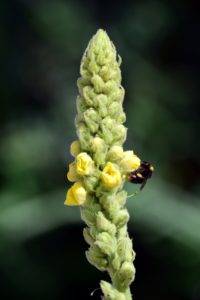 Traditional Uses
Due to its widespread availability, Mullein's medicine has been embraced by cultures all over the world, for a broad spectrum of uses and ailments. Like many herbs, it boasts anthropological spiritual and practical significance in addition to medicinal properties. Across the globe, it has been largely recognized to treat afflictions of the ears, nose, and throat as well as acute and chronic respiratory issues like asthma, respiratory infection, and pneumonia.2
Origin
Native to Europe and Asia, Mullein is at least 2 millenia old, as its fossilized seeds were dated as such, discovered at the Cromer Forest Bed in Norfolk, England. It is thought to have naturalized in North Africa and the Americas during initial contact with colonizing Europeans, its seeds stowed away in the dirt used as ballast in old sailing vessels.2 In ancient Rome, Mullein was used to treat respiratory and pulmonary diseases, additionally, it's large stalk was used as a ceremonial torch. In ancient Europe, it was believed to protect those who possessed it from evil spirits, used to insulate clothing and shoes, and applied to respiratory afflictions. In medieval Jewish medical practice, Mullein was considered one of 23 necessary healing herbs.5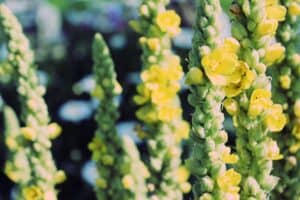 History
In written, Western history, Dioscorides first recorded use of Mullein 2000 years ago, as treatment for pulmonary diseases. In Europe, it was once embraced as a remedy for respiratory infection; and in the early 1900s, it was cultivated in Ireland as a treatment for tuberculosis.3 In North America, first peoples and colonizers alike smoked Mullein leaves to treat lung ailments. Zuni people use the powdered root in poultices applied to sores, rashes and skin afflictions. Currently, it is part of the National Formulary in the United States and United Kingdom.2
Mullein's Herbal Indications
Mullein leaves and flowers are cooling, bitter and astringent energetically, while the root is warming, astringent, and bitter. While Mullein has a great many uses, the following medicinal actions are the most widely accepted.
Cough or Respiratory Congestion
Mullein leaf acts like a lung tonic to support the body's own mechanism of respiratory expulsion. Though astringent, Mullein leaf is also gently demulcent to the lungs, and helps to bring up stuck congestion associated with dry, wracking, unproductive coughs. Mullein leaf also acts as a mild lung sedative and can be of help during spasmodic coughing related to asthma. It combines well with other respiratory herbs, and is indispensable in respiratory formulas.1
Earache
In addition to the leaf, Mullein's sweet, yellow flowers provide important and potent medicine. An infused oil of the flowers is perhaps the premier herbal remedy for earaches and ear infections. Topical applications of the oil provide anti inflammatory, analgesic (pain relieving), and lymph moving properties. Mullein flower pairs well with other herbs like Garlic3, for inner ear infections or Red Root for abscesses.4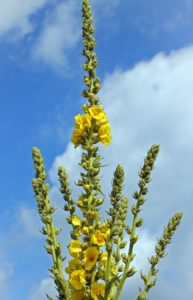 Spine Injury or Misalignment
Mullein root, though less commonly used, is wonderful medicine for the spine, especially for painful misalignment like slipped discs, back spasms, or kinked nerves.5 Mullein root can be used for nerve pain like Sciatica or Bell's Palsy, usually in combination with other herbs like St. John's Wort or Prickly Ash. Mullein root is also a great bladder tonic in cases of incontinence.4 Use as a tincture, tea, poultice, or oil.
Potential Dangers or Side Effects
Though Mullein is generally regarded as safe, the leaf contains phytocompounds coumarin and rotenone, which in the past have drawn expressions of concern from the U.S. Food and Drug Administration. The seeds of the plant should not be consumed, as they are somewhat toxic. The hairy leaves can sometimes cause contact dermatitis. This herb has been reported to inhibit the effectiveness of antidiabetic drugs, and intensify the effects of muscle relaxants and lithium. Those taking prescription diuretics should consult a physician before taking Mullein, as it may interact with the prescription drugs to cause a loss of potassium.5 As with any herbal preparation, consult an informed herbalist and a primary healthcare practitioner before use.
Mullein in Practice
Mullein leaves are best collected from the second year stalk before it flowers; the roots are best sourced from a second year plant in Fall. Flowers should be collected while in bloom.3
Mullein Tea
Tea can be made from dried or fresh leaves and blossoms, however, this tea should be finely strained, as the leaf hairs are irritating to drink. Mullein tea is an effective remedy for a persistent cough, chest cold, or asthma flare up. To make the tea, simply add desired amount of boiled water to desired amount of fresh or dried leaf and/or flower, cover to infuse for 10-15 minutes, then strain carefully. To make Mullein syrup, simply double the amount of plant matter and add an equal part of honey or sugar to liquid. Store in the fridge.3
Mullein Oil
Oil is wonderful to use for relief of earaches and ear infections. To make this oil, wilt the fresh flowers to reduce moisture; add to organic oil of choice (usually olive oil is used) and cook on low heat in a double boiler for at least 3 hours, but preferably for several days. Alternatively, cover wilted flowers with oil and leave in the sun for 2 weeks. When the oil has finished infusing, strain out plant matter.4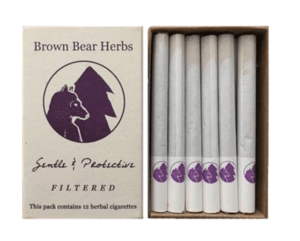 Smoking Mullein
Dried leaves can be smoked as a remedy for wet, damp congested coughs, but is contraindicated for dry, irritated coughs. Its smoke can sometimes ease the tension and spasm of asthma flare ups and whooping cough.1 Usually, small wisps of smoke are better than direct inhalation; burning the leaf and wafting the smoke to the afflicted person is less irritating and often more effective than smoking it out of a pipe or joint.4
A tincture of Mullein is perhaps the most convenient and portable form of Mullein medicine. Tincture can be used to reduce bronchial congestion, ease chronic dry and productive coughs, and soothe bronchitis and sore throat. Tinctures are an alcohol extraction of an herb; to make a Mullein tincture using the folk method, gather fresh leaves, chop them finely, and cover with 80 proof grain alcohol or vodka. Shake daily for 6-8 weeks, then strain.6
Where to Buy Mullein
Mullein in its natural form is so abundant, you're sure to be able to source some fresh in your own neighborhood, maybe even in your own backyard! However, make sure that the surrounding area isn't polluted or poisoned with pesticides and the like. Alternatively, it's very possible to find Mullein at your local herb shop, or in carefully crafted products from herbalists, like this tasty First Aid Infused Local Honey from Phoenicia Honey Co or these awesome Gentle & Protective Smokes by Brown Bear Herbs.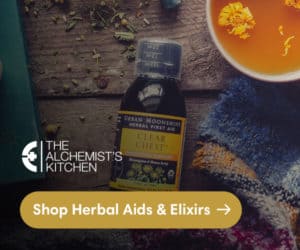 Sources