Po´ten`tize v. t. – To render the latent power of (anything) available.
For thousands of years, stories were the mortar that held together the past and the future.  The ability to survive through the winter was dependent on one's ability to remember the stories of food and medicine preparation in the spring. Ancient hymns and folk songs held important images that kept spirits high during plagues and nomadic journeys. Circumstance may have changed since these times, but the importance of song and story remain.
A wonderful example of a storytelling herbalist is Juliette De Bairacli Levy who invigorated folk herbalism in the West in the 1960's.  Juliette lived among the Romani (gypsy) people for over 20 years and gathered stories, poetry, and song during her travels through Turkey, North Africa, Greece, Israel, and Germany. In her book, "Traveler's Joy" she shares stories of her life as a nomadic herbalist and sprinkles in her favorite folk poetry and personal stories from living on the road. It is nearly impossible not to feel, smell, and experience the rains, droughts, accidents, and the magic that she encounters along her travels. Her storytelling is captivating and makes learning about herbal medicines easy, fun, and engaging. There is good reason why she is often referred to as the Grandmother of American Herbalism and has inspired wonderful herbalists like Susun Weed, Rosemary Gladstar, and Kiva Rose.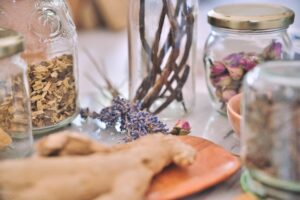 This type of learning, learning through story, experience, and time, is the foundation of a deeper kind of skill acquirement for herbalists. It is how our ancestors learned about the plants. In fact, even the word "Academy" comes from the Greek Akademos, which means a grove of trees. Herbalists like Matthew Wood, Stephen Harrod Buhner, and Susun Weed fill their books with anecdotal information, personal stories, and client cases. Reading their books is like sitting around a warm fire or in an old Greek grove of trees. In the presence of these teachers, learning is more than just memorizing facts, it is the process of listening and engaging with the deeper meaning of the academic material.
In the western world, the dominant culture of medicine seems to have forgotten the power of story. Medicine is equated with reductionism, pathology, heroic measures, short and efficient visits, and a quick cure. The herbalist can easily be tempted to play along and hand out herbs for headaches, infections, or gas, without considering the story of the client.  This approach misses a large and important part of how herbs have traditionally worked. Herbs have always existed within a larger framework and many village herbalists knew the stories of the client, their family, and their local ecosystem.
In my opinion, it is time to bring story and soul back to herbalism. James Hillman, the founder of Archetypal Psychology refers to the process of soul-making as a practice through which individuals slow down and deepen their connectedness to themselves, others, and the world, emphasizing being over doing and the present moment over future aspirations. In soul-making we embrace and prioritize our woundedness, our humanity, and our limitations over the quest for perfection, transcendence, and transformation.  One way we can bring soul back to our field is through the reclamation of the client/practitioner relationship, which is best developed through cooperative storytelling.
Helping clients reclaim their story and a connection to their soul does not require shamanic training or special skills obtained in exotic chemical languages. Aristotle in Poetics speaks of storytelling as what gives us a sharable world, connecting and identifying with others through an exchange of subjective tellings.  Perhaps what our clients really want when they come to see us is someone to listen to their story, validate their position and help them revision their myth.
Jessie Wolf Hardin, a renegade folk herbalist from New Mexico writes, "story has at its best always set examples, informed, and inspired action on the part of the listener, reader or viewer. The human mind has evolved to be naturally receptive to narratives, and to learn information best through illustrative stories."  We see this naturally affinity to story in children and the elderly who are fond of hearing and telling stories. In my practice this is my primary way of working. I listen to the narrative of my client and look for patterns, keys, and symbols that lead me to a story and a plant.
To give an example, a few months ago a client came to me (I'll call her Audrey) with relationship troubles, fertility issues, headaches, problems with trust, and anxiety.  She shared her life story. Audrey was born in Africa and her father died when she was 2. Her mother left the country when she was 7 and she was raised by her grandparents. Audrey describes this period as a very happy one in her life and her grandparents loved her very much.  Around her 13th birthday (when she had her first menses) her mother returned and took Audrey to America to live with her. She was devastated. She describes her mother as neglectful, selfish, and absent.  Audrey had no friends, and quickly became depressed.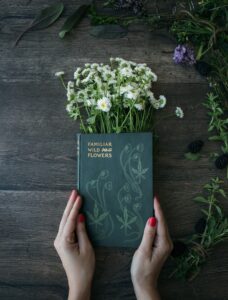 Fast forward 20 years to a woman convinced that the man she loves and with to whom she is engaged will leave her. She is unable to settle into their new home and has tried unsuccessfully to get pregnant for 6 months. In listening to her story an image arose. I shared with her one possible story that would connect all of these separate issues. The story was about a young princess who was happy and had everything
she ever wanted.  She was the caretaker of a beautiful flower that represented youth, fertility, and hope. One day she was kidnapped and taken to a foreign land. All that she had remaining of her beloved flower were a few seeds she had hidden in her pocket.  The princess never planted the seeds as she was afraid that they, and she, could be uprooted at any time. She placed the seeds in a box and hid them away. Many years passed and she met the man of her dreams. They built a castle together , yet something was still missing.  One day while cleaning she found this box. When she opened it she discovered these seeds.  The choice is now up to her. Does she plant the seeds and trust the soil? Or, does she keep them safely stored away? Audrey began to cry and thanked me. She realized the connection between her past and present and said the story gave her a powerful image that she wishes to explore more deeply.
I spoke with Audrey about the plant Wood Betony, Stachys betonica, and explained why I thought it would be a good match for her. Present within the Latin name of the plant are some wonderful insights for its traditional uses. The name Stachys comes from the Greek word stachus which means "a head that stands above," as in the part of a plant that stands above the stem. I explained how this image is a good one for her. I suggested that perhaps she was safely hiding away her confidence, optimism, and vision like the princess was hiding her precious seeds in the story. Perhaps by claiming her current home and planting the seeds of youth, fertility, and hope (she is only 35), her anxiety and fears of being taken away or abandoned would begin to dissipate. I described that Wood Betony (bew meaning head and ton meaning good in Celtic) is a wonderful plant for her because it is a tonic for not only the head, and may help her headaches, but it also nourishes the entire nervous system. It is not a "quick fix" plant but instead acts like a helper to hold your hand while you make changes and will keep her disposition sunny and bright.  I recommended 3 drops of Betony tincture twice a day and an overnight infusion of Nettles tea.
Many great herbalists like Doug Elliott and Rosita Arvigo use story as a primary mode of teaching. Doug says, "storytelling is our way of making sense of our world, making order out of imagined chaos. When you tell someone something as simple as what you did today, you are recounting your part of a narrative that began with the dawn of humanity." At a recent herbal conference in New Hampshire, Rosita shared a story about using the plant Rue, Ruta graveolens, to cure a young woman of heartbreak and depression and another story of its use for protecting a mother against dark forces.
The power of the story is that it contains symbols that leave it open to interpretation. If the role of the herbalist is to present a story, explore missing pieces and provide plant allies to aid in the work, then the role of the client is to use their imagination to help create their own outcome. In this way the responsibility of healing the physical illness isn't tied so rigidly to the herbalist. Rather, the herbalist's role is to create a healing narrative that invites the client into imaginative participation with their personal story and myth.
As a Siberian elder once said, "If you don't know the trees you may be lost in the forest, but if you don't know the stories you may be lost in life."