Unquestionably, the coronavirus, named Covid-19, an infectious flu has become an alarming issue of global concern and uncertainty. Infectious diseases are caused by pathogenic microorganisms, such as bacteria, viruses, parasites or fungi; the diseases can be spread, directly or indirectly, from one person to another. For the Coronavirus the number of cases have reached 88,000 at the time of this post, and rising with each day. While most cases are mild, it's a perfect storm for provoking a deep sense of anxiety, especially with the sudden and intense media attention. In fact, we are witnessing a dramatic global economic impact which may prove far more painful than the virus itself. That being said, how do we implement "preparedness"? What can we do for ourselves, and our family to strengthen our immune system, actions we can take immediately, and form new habits using plant-based remedies for the future?
The Basics for Coronavirus: 
Wash your hands regularly with hot soap and water for a minimum of 20 seconds.

Avoid touching your face

Extend your sleep to 7-9 hours

Increase the intake of vegetables, fruits, whole grains, and protein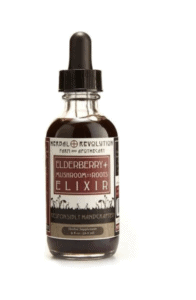 Reach for Elderberry
We recommend beginning an immediate daily intake of Elderberry and we have several proven remedies, unquestionably, some of the finest produced in the country. A favorite here at The Alchemist's Kitchen, Elderberry Plus Elixir is cultivated and extracted into a tincture by our close friends at Herbal Revolution Apothecary. It is one of the best medicinal aids for prevention of colds, influenza, upper respiratory infections and fevers (such as the coronavirus, which is a virus). Elderberry can also be used if you have already come down with a cold, flu or infection.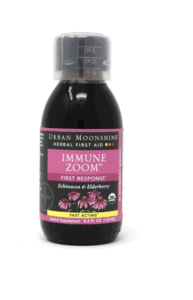 Immune Zoom from Urban Moonshine is also a tried and true favorite– a delicious combination of organic elderberries, echinacea and raw honey.  Our friends at Urban Moonshine add spicy warming herbs cinnamon, cayenne, & ginger as an extra kick.
Consider also adding the following herbal aids to your life:
Chaga
Chaga, according to Annanda Chaga, " has the ability to improve the immune response, lower high blood sugar and combat abnormal and mutagenic cell growth. This mushroom also has the capacity to stimulate the immune response, reduce inflammation and to multitask on so many levels making it a very powerful adaptogen for the body."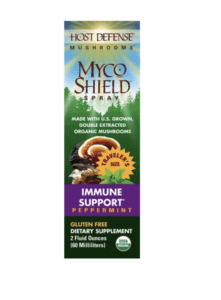 Check out this MycoShield Immune Support Spray, which combines five powerful polypore mushroom species: Agarikon, Red Reishi, Chaga, Birch Polypore and Turkey Tail. These five mushrooms provide a unique combination for immune support, available in a small travel size which you can take with you on the go or when you travel. To start taking at home, MyCommunity® Comprehensive Immune Support Capsules consist of a unique combination of mushroom mycelium and fruitbodies.

Reishi
According to Medical News Today, "Many people claim that reishi mushrooms can boost the immune system, combat cancer, and relieve symptoms of many other health conditions." You can take them in this delicious Elderberry Reishi Tincture daily. Or, drink this Mushroom Hot Cacao in the afternoon or before bed to help relax while also boosting your immune system.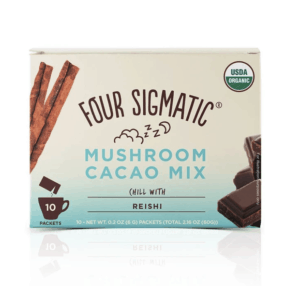 Dr. Bridget Simoine, an herbalist based at  Farmacopia recommends herbs for the coronavirus such as, "garlic, reishi, olive leaf, and proanthocyanidin-rich berries like elderberry and hawthorne. I'd also consider licorice, baical skullcap and green tea." 
She also recommends "immune building soups, which typically consist of simple broths with aromatic and antiviral herbs like garlic, oregano, rosemary, thyme and ginger.
"You can use bone broth or veggie broth as a base, adding immune protective herbs such as reishi and astragalus into the broth base… into the finished soup… include shiitake mushrooms, which are also antiviral, and a plethora of veggies like radishes, sea veggies and leafy greens."
Vitamin Supplements to boost and balance immune system for Coronavirus
Beyond herbs, Dr. Bridget Simoine recommends "4 specific nutrients that may be worth supplementing to boost and balance the immune system: Vitamin D, Vitamin C, Zinc and Vitamin A." She suggests 2,000-10,000 IU/day taken with food. For Vitamin C, smaller doses of 250-500mg spread throughout the day is more effective than large doses. Zinc is also a go-to for enhancing viral immunity. A general zinc dosage for adults might be around 25-30mg/day. For Vitamin A, she says, "In non-pregnant adults and in non-smokers only, I typically supplement Vitamin A around 5,000-10,000 IU/day, for 1-3 months. In children, I tend to prefer cod liver oil as a food-based Vitamin A source."
The best thing we can possibly do about the coronavirus right now is to stay calm and upgrade our intake of herbal remedies, and healthy foods. 
For even more herbal aids to boost your immunity, click here!
For more information about immune system support, check out 6 Herbs to Boost Immunity Support this Winter Season; Superfoods, Superherbs, and Superimmunity; and Stay Radiant and Healthy this Winter with Echinacea and Elderberry