Some of the greatest social gatherings and introspective musings occur around earth altars. Whether under a tree, around a fire, or gazing out across the sea, these special spaces conjure a unique magic about an area. Created within minutes or crafted over hours, they hone the creator into the cosmic rhythms of the earth as they lie piece after piece onto the cool heartbeat of the earth.
What Are Earth Altars?
Earth altars are spaces where the cosmos touch our everyday reality. Since the time when humans started looking to the heavens, they have created these sacred spaces as portals to other worlds. Specifically built out in nature using found elements, every step is a divine process that connects the spirit self to the physical self. These portals weave their way through many cultures across the globe, acting as a universal thread to commune with ancestors, spirit guides and the Divine.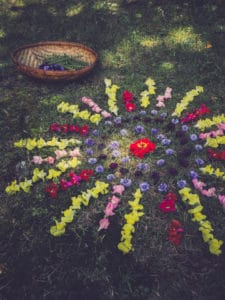 Step 1: Understand the Role of Ancestors Within Earth Altars
Looking into the rituals of cultures before religion, a beautiful kaleidoscope of self-expression and creativity is revealed. Each group of people had their own preferred materials to use in creation of their altars, chants to preform, and symbols to invoke.
For example, Tibetan Buddhism, from which the word "mandala" was created (meaning circle in Sanskrit) used mandalas to represent a cosmic map that would guide a practitioner to enlightenment. These intricate designs are typically made out of colored sand or crushed precious gems and represent the universe in its entirety. They are used as a means of intense meditation and then are ritually dismantled as an homage to the impermanence of all things.
Understanding our own ancestor's beliefs and rituals can help us to create intentional altars and mandalas. Just as the Tibetans used sand, the Celts used giant stones, the Native Americans offered bones, fire and herbs, and the Chinese with fruit and flowers. With these natural objects, they conjured their unique cosmic experiences. So before crafting your altar, discover the objects, rituals, symbols, gods, and goddesses incorporated by your lineage. This will help you better connect to the cosmic forces that have woven your history. It will also give you a solid starting point.
Step 2: Setting Intentions
Once you have a greater understanding of how your ancestors used earth altars for prayer and ritual, you can begin to manifest your own practice. To start, think about why it is you want to create this altar. Is it to connect with the earth? With yourself? To contact ancestors or guides? As a ritual to invoke an abundant harvest? As a blessing for good fortune and prosperity? You can get as vague or specific as you want. These intentions will help subconsciously inform us about what objects to use, symbols to create, and mindset to have.
I like to write my intention for a particular altar on paper. I find the act of physically bringing the words into being helps to manifest the intention. Include this piece of paper somewhere in the altar, burned during a ritual, or even buried somewhere near the altar.
Step 3: Gathering Materials
This is the step in the process where we begin to let go. Once we have in mind our intentions and the knowledge of our ancestors, we can let our hands gather as they please. The beauty of earth altars is that you don't need to go anywhere grand or buy any materials. You can simply wander into your backyard, local park, or the wilderness if you like, and see where it leads.
The only equipment you should need is a basket for gathering and clippers for harvesting. Be sure to only gather what is abundant, over harvesting is always an issue we must keep in mind. Other than that, let your hands meander towards rocks, pebbles, feathers, pine cones, flowers, leaves, shells, or anything the earth offers up.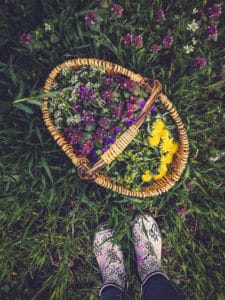 Step 4: Creating the Altar
The altar itself can take many forms. Here we can look back to the rituals of our ancestors to see how they created theirs, or craft our own version.
Cairns: made by stacking rocks and other objects. These altars have been made from Ireland to the Andes as monuments or landmarks. Avoid creating them in places where other hikers may mistake them for trail markers.
Mandalas: these usually take a circular, square, or diamond shape. These can be a simple ring or very elaborate with repeating patterns and intersecting lines.
Spirals: are also beautiful forms that are one of the oldest shapes found throughout the ancient world representing the ever-changing creative process of the universe.
Tree Adornments: tying rags, ribbons, and cloth to trees has been observed in almost every culture throughout human history as means of reverence and good health. You can also hang or place other objects of importance from branches or at its base.
Random: just by grouping a unique set of objects together with special meaning to you can be a powerful altar to focus prayer and meditation
As you begin, continue the practice of letting go of control. With at least a form in mind, I typically don't have a plan of how my altar should look before I begin. Simply begin. You can altar and change out objects as you go, but let your inner expression guide the outcome. It is pleasantly surprising to discover how well your hands know what to do.
Step 5: Bask and Connect
Now sit within the moment and trace your altar with your eyes. Etch it into memory. It is incredible how the gathering of unlike objects can form into something so powerful. Sit on the ground and feel the earth pulse through the portal you created and imagine a beautiful beam of energy shooting up to the universe. Visualize the intentions you created in the beginning also traveling up that beam into the heavens. Imagine your ancestors sitting beside you as you revere this sacred space.
If you consider yourself a green witch, you can perform your own rituals to further the connection you've made or simply sit and meditate. This is now a beautiful space for communion and communication. If you have wants, hurts, or sorrows, send them up. Perhaps most importantly though, be sure to send your gratitude to simply be in that precise moment.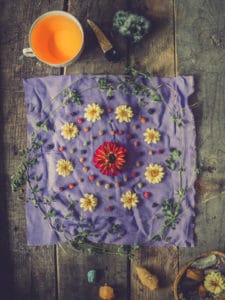 Inspiration
Follow your own spirit first when you create your altar. A little inspiration from other people doing beautiful work though can help to get the creative juices flowing.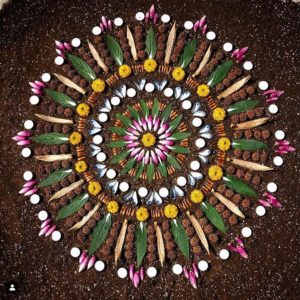 Gorgeous details and symmetry, this man has made earth altars every morning to deal with his divorce. He now shares them with the world.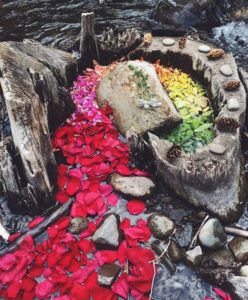 Living in the high dessert of Taos, NM, Kate Clearlight has a less formal style. She leaves love letters and other gifts for the earth as part of her ritual.
Altar and Leaf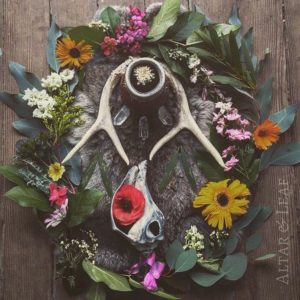 Lindsay "weaves seasonal stories with botanicals" and creates some beautiful altars and mandalas with plants, crystals and bones.