If you've been following along with our Crystal Grid Series, you already know all about the science of gridding and its relationship with Spirit. You've watched us build grids step-by-step and incorporate gridwork systems into seasonal rituals. Sacred geometry is no longer a mystery, and you've probably added a handful of new crystals to your collection. You might even say that you're a bit of a gridding expert.
But even a crystal master needs a little inspiration from time to time. So, whether you're looking for love, success, spiritual guidance, or healing of any kind, we have it covered with five crystal creations to overcome any challenges that arise during this upcoming year.
Prosperity and Abundance
Ahh, the holidays. A time for giving, sharing, and reflecting on the passing of another year. It's also when too many of us overspend, whether that be on gifts, hosting, or travel. If you're also feeling the financial pinch, you have options. Try gridding with the following stones to generate a frequency of abundance and relieve the burden from your mind (and wallet).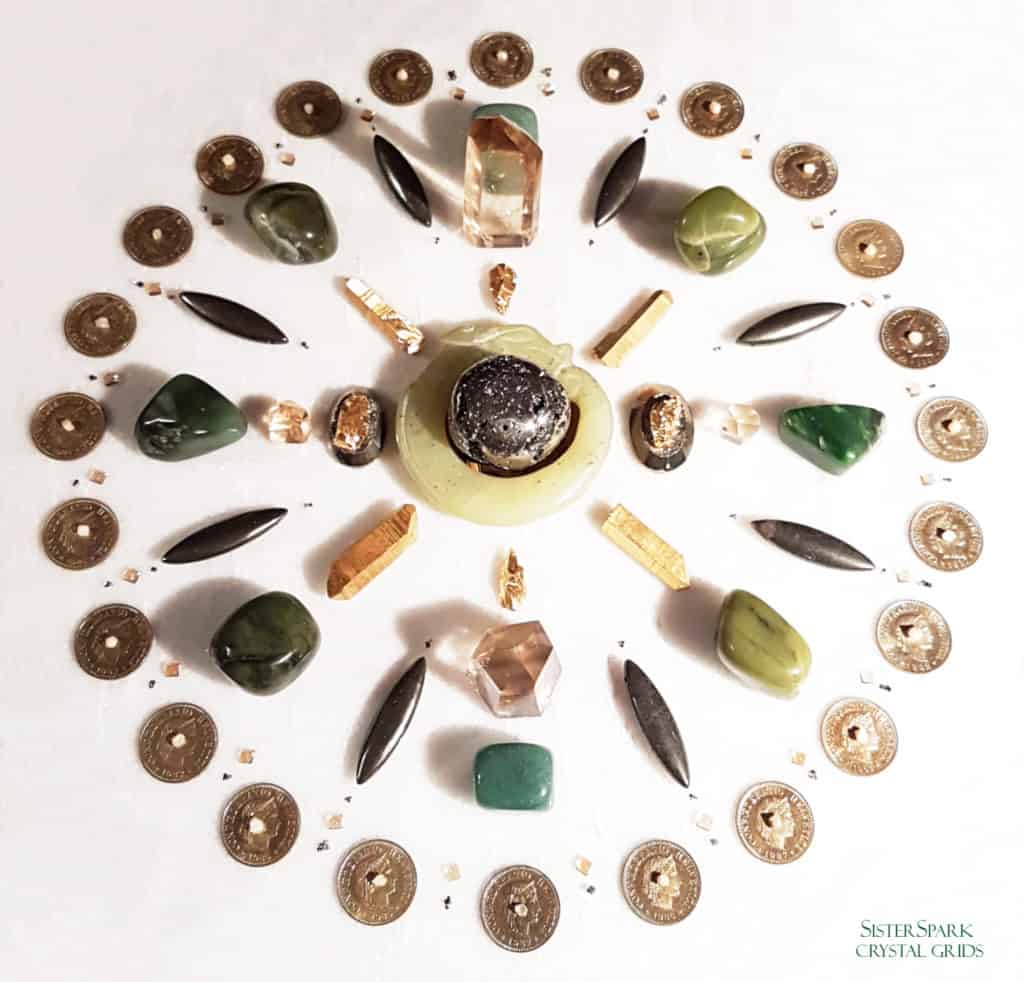 Pyrite: Simply put, pyrite makes things happen. Its reflective exterior is protective, but also a magnet for money, luck, and positive thinking.
Jade: It's no secret that chronic stress leads to adrenal fatigue, but jade can help eliminate one of the leading causes of stress—a lack of financial security. Jade asks that we reevaluate our attitude towards money and consider how these feelings might help or hinder us in the physical world.
Tiger's Eye: A stone for clarifying intentions and recognizing untapped resources. Position within a crystal grid to commit to your goals.
Citrine: A stellar choice for grids designed to ignite passions, manifest new opportunities, or supply the body with a seemingly unlimited energy source.
Coins: A physical representation of what we're manifesting (in this case, money) enhances a grid's energetic output.
Also included in this grid: Phenakite, Rhodozite, Green Aventurine, and Lemurian seeds.
Psychic Abilities
Call it intuition, a sixth sense, or being in sync with universal consciousness, but many of us are working on expanding our psychic abilities. The dark half of the year is a powerful time to reconnect with the unseen, but you can also tap into the unknown through meditation or during a dark moon or a lunar or solar eclipse.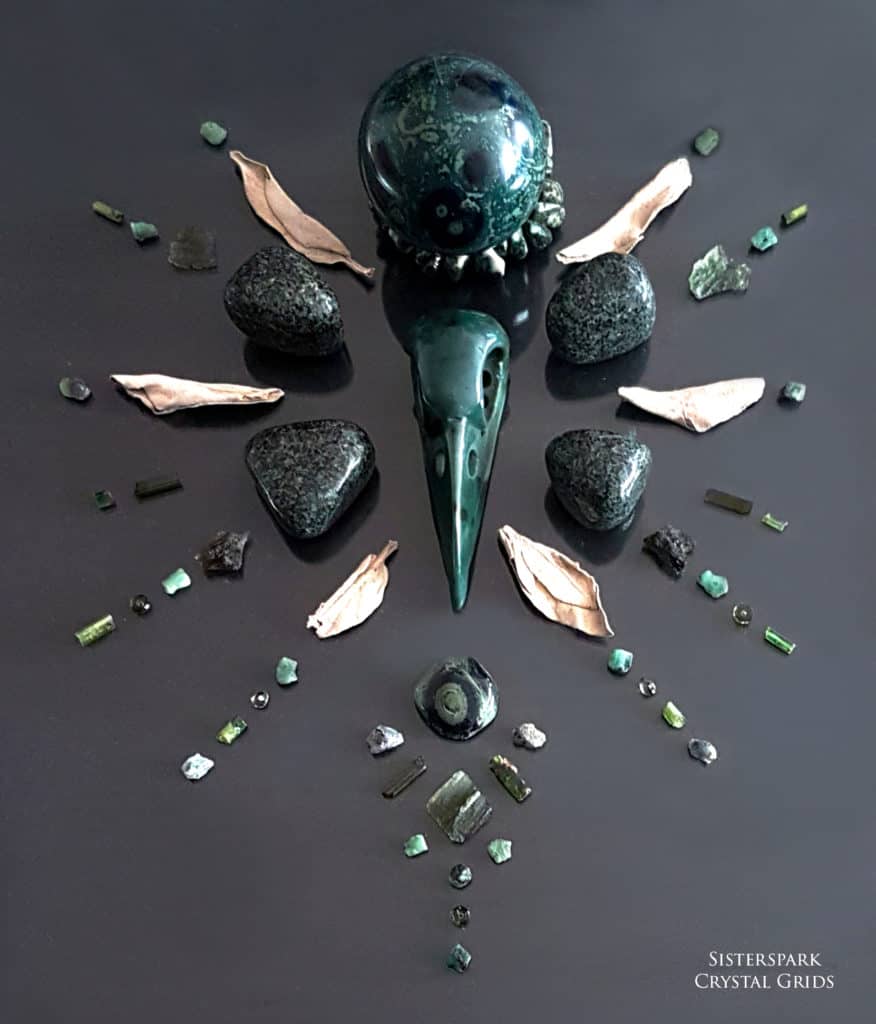 Preseli Bluestone: If there were a stone fit for a sorcerer, this would be it. Preseli bluestone stimulates visions of past lives, parallel universes, and the multiple life paths that are available at any given moment.
Bloodstone: Bloodstone acts as a messenger from alternate dimensions. As a focus stone, bloodstone heightens intuition and increases mindfulness.
Green Tourmaline: Position sticks of green tourmaline throughout a grid to strengthen visualizations, communicate with plants and animals, and generate a sense of belonging—no matter the surroundings.
Moldavite: The impact of a meteorite meeting earth gave life to this otherworldly stone. Position throughout a crystal grid to communicate with extraterrestrial beings, angels, and our highest self.
Alexandrite: A stone for uniting the logical and intuitive parts of the psyche.
Also included in this grid: Kambaba Jasper, Emerald, and white sage.
Self-Love
We give love to our friends, family, neighbors, and even strangers. So why is it so hard to share with ourselves? Fear not, for this grid is filled with some of the most compassionate crystals to break that pattern.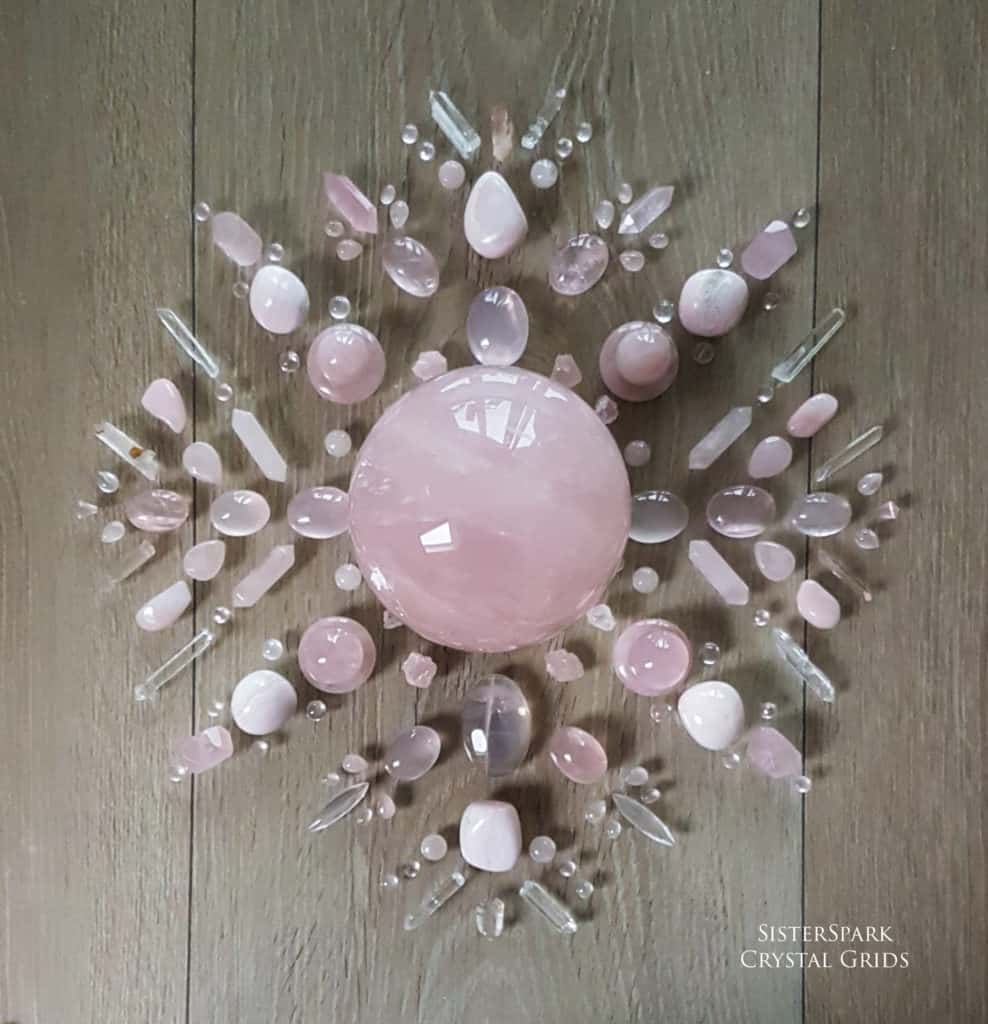 Rose Quartz: As the undisputed queen of love and tranquility, rose quartz gently replenishes a depleted heart chakra and soothes anxiety.
Mangano Calcite: This pink calcite variety encourages forgiveness, prevents nightmares, and releases grief.
Morganite: A rose-colored stone that enhances inner beauty and hidden talents.
Also included in this grid: Pink Lemurian seeds and Crystal Quartz.
Romance
When the heart chakra is balanced, and our cup is overflowing, the time has come to share that love with others. Consider a grid with stones that magnetize passion, devotion, and companionship.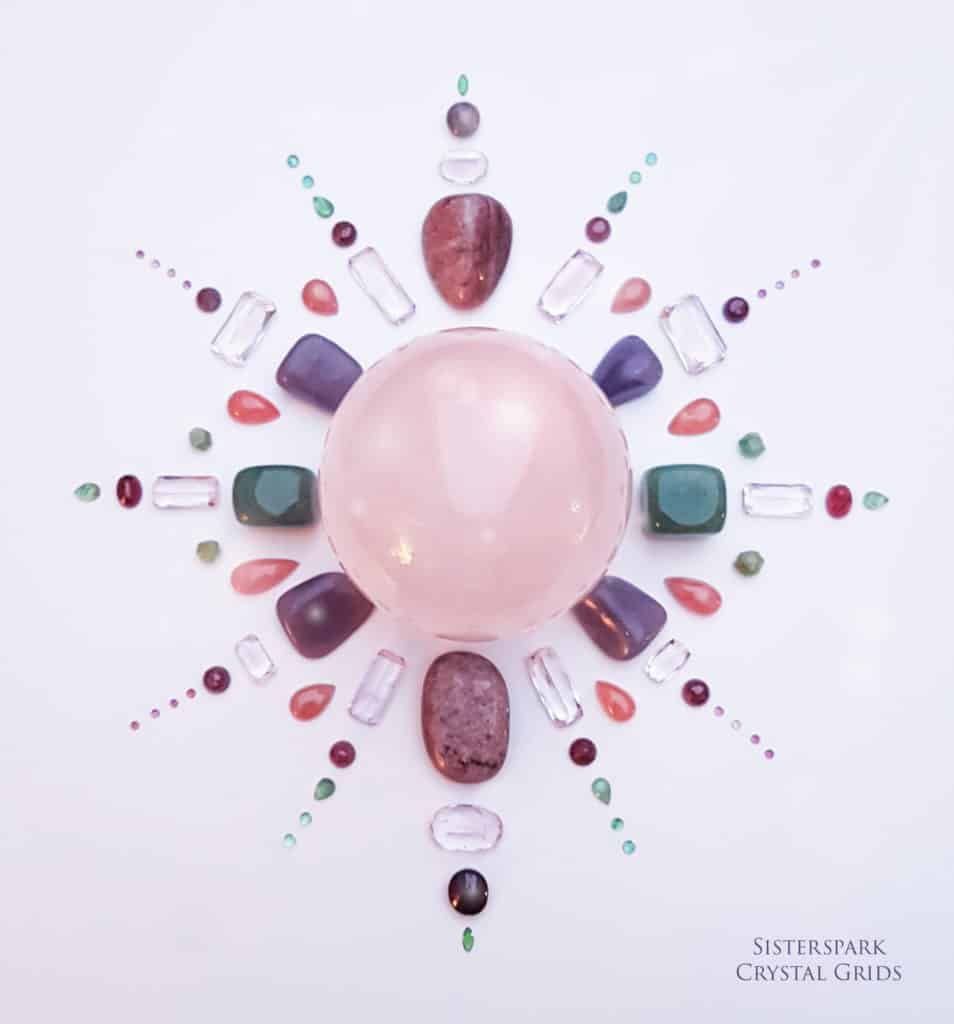 Thulite: Opens the throat chakra in preparation for genuine conversation. Thulite is a reassuring ally for anyone who suffers from social anxiety or feels out of place in unfamiliar environments.
Lepidolite: Encourages mindfulness, awareness, and a child-like optimism while managing the responsibilities of adulthood.
Rhodochrosite: The Cupid of crystals. This fiery specimen radiates unconditional love and warms the sacral chakra.
Kunzite: For those who mistrust new people (especially potential love interests), kunzite helps by softening emotional barriers to the heart.
Ruby: Rubies are natural aphrodisiacs that promote self-confidence and a heightened awareness of the needs of others.
Also included in this grid: Green Aventurine, Rose Quartz, Rhodolite Garnet, Tsavorite, and Emerald.
Healing
If you're feeling unfocused, irritable, lost, or are simply in the mood for gridding and can't decide on an intention, try creating a healing frequency to alleviate any number of physical or emotional issues.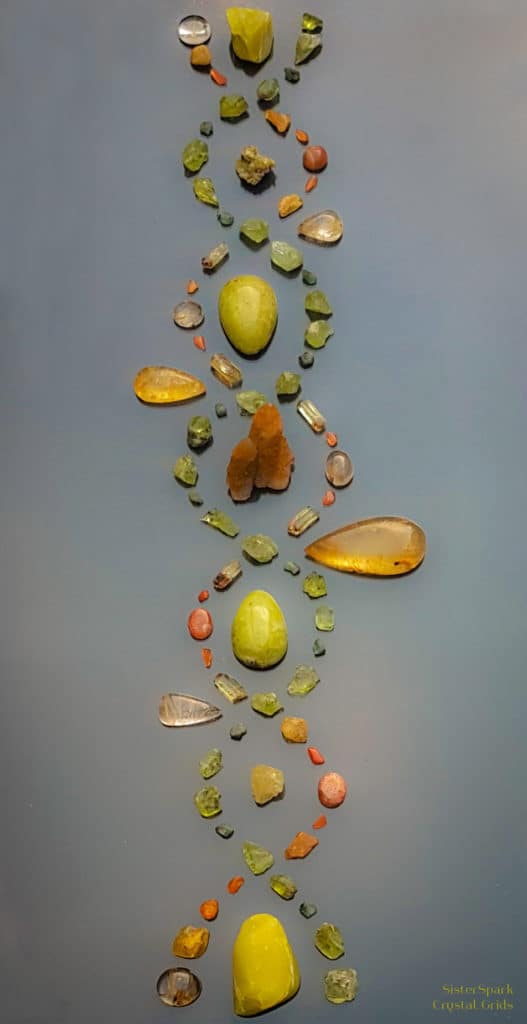 Terminated Yellow Apatite: A crystal that detoxifies the physical body and eliminates emotional distress.
Amber: A fossilized resin that carries powerful and transformative earth energy. According to Judy Hall, the author of The Crystal Bible, amber is excellent for transmuting unfavorable vibrations into therapeutic frequencies.
Sunstone: Stimulates action, optimism, and change. Helpful for issues related to stagnancy and sensitivity to cold.
Green Opal: A clarifying stone that strengthens the immune system by acting as an energetic filter. Green opal ensures that negative thought patterns do not "stick" to our subtle bodies and manifest as disease in the physical world.
Brazilianite: If brazilianite had a mantra, it would be, "mind over matter." Include brazilianite to bring awareness to personal power.
Peridot: A helpful crystal for overcoming bad habits such as smoking, procrastination, and unhealthy food choices.
Also included in this grid: Emerald, Rutilated Quartz, Pyromorphite (a form of Apatite), Carnelian, Spessartine (a variety of garnet), Healerite, and Golden Healer Spirit Quartz.
*Grids designed by Sister Spark Crystal Grids
*
Check out crystals from The Alchemist's Kitchen here!